I would like to express our sincere gratitude to shareholders for their continued support of our operations. In the fiscal year ended March 31, 2022, the Japanese economy was beset by a growing sense of uncertainty about the future, mainly due to the recurrent spread of COVID-19 with no signs that that pandemic was nearing its end, as well as the worsening of the situation in Ukraine, in addition to global supply chain disruptions. Under those conditions, in the CMK Group's main operating field of products for automotive use, the number of automobiles sold recovered globally, resulting in an increase in orders received for those products, in spite of the prolonged effects of the shortage of semiconductors and other components.
The CMK Group saw an increase in sales of products designed for automotive use, resulting in consolidated net sales of 81,486 million yen (up 16.5% year on year). On the profit front, operating income amounted to 3,021 million yen(compared with an operating loss of 1,676 million yen posted in the previous fiscal year), reflecting factors such as production efficiency enhancements and the effects of the net sales growth, despite the effects of rises in raw material expenses. Ordinary income came to 3,305 million yen (compared with ordinary loss of 1,511 million yen posted in the previous fiscal year) and profit attributable owners of parent was 2,785 million yen(compared with a loss attributable to owners of parent of 1,868 million yen posted in the previous fiscal year), mainly attributable to the growth in operating income. Economic conditions are expected to remain severe in the period ahead, with COVID-19 and the worsening of the international situation. However, demand for products for automotive use, which represent a key market for the CMK Group, is anticipated to expand over the medium to long term. To capture this demand, the CMK Group will move forward with establishing its profit base, a key component of the 1st MediumTerm Management Plan the Group has been executing from the fiscal year ending March 31, 2023, and will make preparations for the next stage of growth.

To Our Stakeholders, we look forward to your continued support.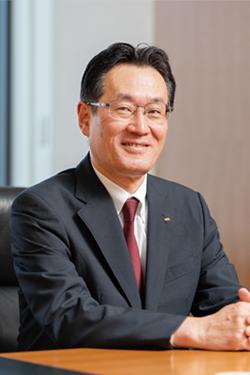 CMK Corporation
Isao Osawa President