To continue as a company chosen by society.
Social conditions and environment surrounding us have changed rapidly.
People and goods are free to move at a global level and people all over the world have become closely by developing technology. However we have a lot of problems such as food crisis, resource depletion by increasing population, human rights, poverty and education economy gap.
In this environment, we are working to fulfill our reason for the existenece as a manufacturer specializing PWBs.
In order to achieve it, we need sustainable development;improving corporate value is neccessary to develop and grow. We are sure that meeting the expectations of all of our stakeholders and keeping to create CMK's value lead to our contribution to sustainable society.
Financial Results for the Fiscal Year Ended March 31,2018
During the fiscal year under review, the Japanese economy continued to stay on the path to moderate recovery, partly reflecting further improvements in employment and income conditions. In addition, the United States has seen continued economic growth due to the strong performance of the corporate sector, while Europe also enjoyed an economic recovery, including a moderate rebound in consumer spending. The Chinese economy has maintained a high rate of growth. Nonetheless, uncertainties remained in the world economy due in part to the intensified trade friction between the United States and China.
The automotive PWB market, which is the key market for the CMK Group, is continuing to see rising demand, partly reflecting the spread of advanced driver assistance systems (ADAS) attributable to the growing safety awareness and the accelerated.
shift to PHV and EV that resulted from tighter environmental regulations, in addition to the increasing proportion of gasoline vehicles that are reliant on electronics. In this environment, the CMK Group made capital investment to increase the production capacity at its main plant in Thailand by 30%. The Group also invested in more production capacity at two plants in China, partly reflecting the increase in sales of build-up PWBs for automotive use and products for foreign companies.
In addition, we focused on improving productivity at our plants in Niigata and other areas, thereby taking steps to increase production volume and improve profitability.
As a result of these efforts, consolidated net sales increased 15.3% from the previous fiscal year, to *86,894 million while operating income was *4,266 million, up 60.9% year on year.
In addition, thanks to the increase in operating income, ordinary income amounted to *3,917 million, up 49.0% year on year, and profit attributable to owners of parent came to *3,638 million, up 69.0% from the previous fiscal year.
To Our Stakeholders, we look forward to your continued support.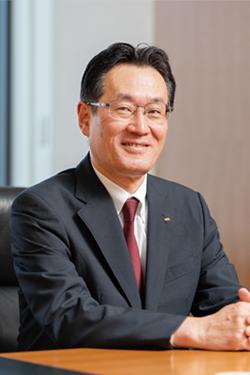 CMK Corporation
Isao Osawa President